JERUSALEM, Saturday, August 12, 2023 (WAFA) – Israeli settler violence and coercive measures by the Israeli military forced hundreds of Palestinians to abandon their communities in Area C of the occupied West Bank in search of safer ground, according to the United Nations Office for the Coordination of Humanitarian Affairs (OCHA) in the occupied Palestinian territory.
It said in its bi-weekly Protection of Civilians report covering the period between 25 July and 7 August, that the remaining families of al Baqa'a and Ras al Tin herding communities in the Ramallah governorate left their community, citing settler violence and loss of access to grazing land.
According to the report, on 28 July, following the establishment of an Israeli settlement in the Palestinian community of al Baqa'a on 20 June, one of the two remaining Palestinian households, comprising eight people, including five children and a pregnant woman, left the community. This follows a similar move by 36 people from the same community, who, earlier in July, dismantled their homes and livelihood structures, moving to a safer place.
On 4 August, 12 households in Ras al Tinm a herding community in Area C of the central West Bank, comprising 89 people, including 39 children, dismantled their residential and livelihood structures and left their communities and relocated to safer places. According to the families, they left after increased settler violence and harassment following the establishment of new farming settlement outposts. Settlers took over grazing land belonging to the community and planted vineyards, reducing the grazing area necessary for Palestinian herders to sustain their livelihoods.
On 8 August, the remaining families of Ras al Tin dismantled their homes and properties and left for safer places. They were among 89 neighbors of 12 households who left the community over the past few days, citing violence and intimidation by Israeli settlers and shrinking grazing land as the main reasons. Among them were 39 children. The community now stands empty.
Last year, 100 Palestinians left Ras al Tin, citing similar reasons. On the eve of their departure, the whole community comprised about 35 households, including 240 people, of which 150 were children. Their homes were located in five separate, adjacent locations.
This herding community's displacement in July 2022 and August 2023 is largely a result of an accumulation of settler violence, demolitions, harassment, and other coercive measures. Families now rent homes in adjacent villages where they feel safer. To preserve their traditional livelihoods, some households have had to split, with certain members staying in separate locations to guard their herds.
About 477 people, including 261 children, left from Ras al Tin, Wadi al-Seeq, Ein Samiya, and al Baqa'a (all in the Ramallah governorate), Lifjim (Nablus) and Wedadie and Khirbet Bir al 'Idd (both southern Hebron) between 2022 and 2023, citing settler violence and loss of access to grazing land as the primary reasons, said OCHA. As a result, three out of these seven communities have been entirely emptied, while only a few families remain in the others.
Over the years, OCHA has documented in detail the coercive practices that put pressure on people to leave certain areas. Among these practices are the demolition or seizure of homes and livelihood materials, excessive use of force by the Israeli military, settlement expansion, physical assaults, and vandalism. Such practices have resulted in physical injuries, psychological harm, and loss of livelihoods and perpetrators are rarely held to account.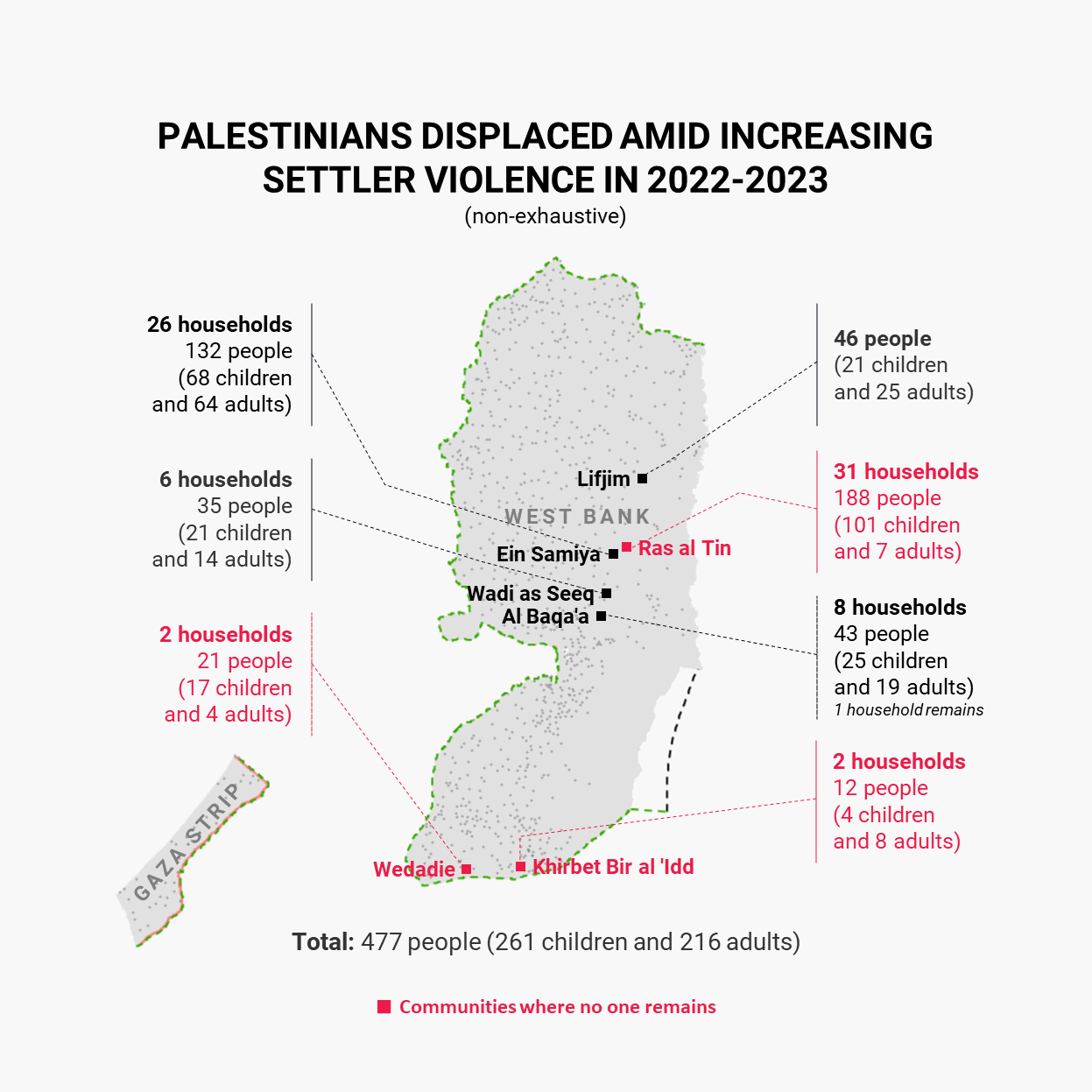 M.K.